Everybody has their unique style of cooking; from how they cook to what they like to cook. From gas and charcoal to smokers and electric BBQ grills; there are a plethora of cooking options out there. A major part of our lifestyle (and health) is the food we prepare, cook, and eat.
For me, it's hard to compare enjoying cooking more than with a charcoal BBQ grill to any other cooking technique. But I live in a second story apartment with no yard. Fortunately, I do have a private balcony. And I am permitted to cook with electric BBQ grills!
Cooking can truly be a creative and fun way to express ourselves! Some have a true passion for the craft; and the final product can be like art. While others just want to eat when the food is all ready!
I truly do enjoy grilling my food. If you have limited options like me, and can only have an electric grill; Whatever side of the cooking process you're on, you'll be happy with the results of the Char-Broil Patio Bistro Electric Grill!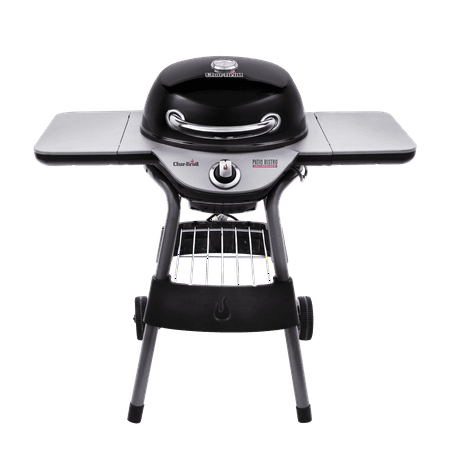 Great Grilling Ability
After going on-line and searching out my options in function, size, price-point, and written reviews from verified customers (along with YouTube videos), I came across the Char-Broil Patio Bistro Electric Grill. And honestly, given the limitations of my living situation, I am super happy with the purchase!
Even though it's electric, it brings out great flavor! So far, I've cooked beef, pork, turkey burgers, salmon, and chicken drumsticks… They've all turned out awesome!. By the glance of grill-marks and high flavor profile, it's hard to complain about the non-charcoal, yet comparable, results.
Throwing wood chips on the grill is suggested for a more BBQ smoke flavoring, but I haven't done that yet or become disappointed for not.
The Right Size For Your Place
I've cooked food covering the entire face of the grill with enough for five to six people. If you live in a studio or one-bedroom apartment, and have more than that amount of people over, your're probably breaking apartment complex ordinance. But if the situation arises, rest assured you can feed your squad.
Of course, this grill isn't limited to those size apartments. It's just more than the average person or two need in those sized quarters.
Luckily, I have an electric outlet on my balcony, and haven't a need for an extension cord. The unit's cord itself is only about a 4 feet reach from the grill. So keep that in mind.
My balcony is 6.5ft x 8.5ft and the grill fits nicely with room for a small table with up to four chairs (I have 2 chairs there).
I opted to buy the cover. But this is my balcony. You can see what I have to work with. There's still plenty of space to relax. (For two or three people anyway).
Features
240 square inches of primary cooking space
1750 watts of grilling power
Cooks evenly with the TRU-infrared cooking system (This isn't 100% accurate in my experience- but is fairly effective)
A raised warming rack offers an additional 80 square inches of secondary cooking space
Porcelain-coated steel grates
Grease tray is easily accessed for cleanup (I've lined mine with aluminum foil for even easier cleanup)
Folding side shelves (Always a plus to have space for all your sauces, spices, and tools at hand)
Lower chrome-plated storage rack (I actually store the raised rack there. To me it just gets in the way of cooking)
Temperature gage
Light up temperature dial to display grill is on.
Get To Grilling And Chilling
The Char-Broil Patio Bistro is a great grilling option for electric BBQ grills when charcoal and gas just aren't allowed where you live.
Cuffing season is over. As the country gets closer to opening back up, it's coming time to prepare to have some people over and to get to mingling! And give Netflix a break. You and your company have a lot of catching up to do!
Order the grill at the link provided here ==> Char-Broil Patio Bistro Electric Grill
---
Thanks for stopping by my site and checking out the lifestyle section. Any products I have written about or own were not given to me. I purchased them with my own money. I may receive a small commission for a purchase through my links, but that does not affect the price whatsoever.
Have a great day!!
– Mark G
Please follow and like us: