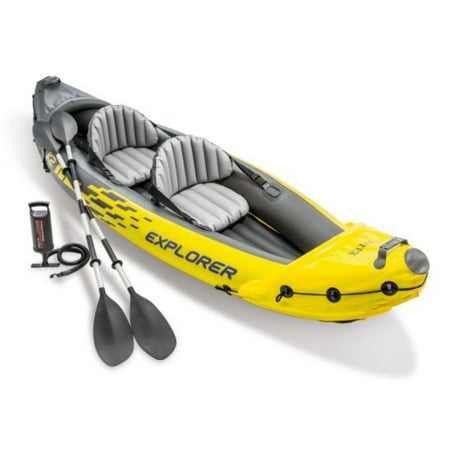 In an active lifestyle, truly adventurous spirits seem to always find their way to a body of water. I will claim, though maybe not in the extreme fashion, that I am one of those. Recently, I went kayaking on the Colorado River at Willow Beach, Arizona. My on-water-vessel was my new Intex K2 Explorer Kayak.
This was my first time using the Explorer. In the 4 hours I was on the water, I came across 12 other of these exact same "banana boat" inflatable kayaks. If it were a popularity contest, Intex wins. At least it did Friday, May 8th, 2020.
I'm guessing all those strangers came to the same conclusion as me after checking out their options. And like most people in the current U.S. situation (including those strangers with me on the water), I needed to get out and have some fun!
At the same time, my finances have taken a major hit. Perhaps you can relate. The fact is, I am now truly floating on a budget.
In my search for the kayak, along with practically any purchase I make, there were four basic categories I go through. When I'm making my decision in a long term investment, I want to make sure it's the most informed and fine-tuned one. These product categories are:
Price
Quality
Style
Rating and Reviews
Here's where the Intex K2 Explorer Kayak fared in these qualifications…
The Price Is Right!
My total cost came to $97.53 for the kayak (with free shipping). I basically wanted to get on the water and be realistic with my budget right now. Through my search I looked at practically any kayak I could find online that fit this price point. Again and again, the Explorer showed up.
Honestly, it wasn't my ideal look. I liked the two seat option though. I thought, "If anyone ever comes to visit me in Las Vegas, I could take them to Lake Mead or the Colorado and not need to search for or rent an extra kayak."
So, even though it didn't suit my taste in style, it still had my attention. And the price was right!
Style and Function
Even though the aesthetics weren't in-line with my desires, I had to admit, it looked like it could handle some rougher waters or even some puncturing obstacles. So the banana boat had my attention and now started to gain my respect.
Have I mentioned it will make you think of a banana?
With that being said, yellow is great for visibility. We should be visible on the water for a variety of reasons, including being:
Easier to find in an emergency situation
Easier to see to avoid above mentioned emergency situation
After seeing 12 other of these K2 Explorer Kayaks, I can tell you, they are extremely visible. Being seen is an important function. But it's not all about looks. For many, especially beginners, stability is important as well.
I never felt like I was going to tip over. My friend sat up front. It was her first time kayaking, and she did great and felt confident in the Explorer as well. With the stability, you will sacrifice speed with the kayak.
It has room for two adults and gear up to 400lbs fairly comfortably. I, sitting in the back, was able to have both legs fully extended via both sides of the front seat. But what about storage space?
There is plenty of room for everything you'll need on a day trip. I kept my waterproof Chrome Roll-top Barrage Cargo Backpack in the space behind my seat. This backpack is capable of holding plenty of food and drinks.
At the front of the kayak is additional, but smaller, storage space. Speaking of storage, the kayak itself is super storable!
If you don't have the storage at home, the proper vehicle or transporting equipment, an inflatable kayak is your saving grace to get out on the water. The Explorer will fit in your closet, trunk, or other small storage areas. It comes with a bag that fits everything included with the kayak (oars and pump).
The 3 prominent function here to me are:
Visibility
Stability
Storage storage storage!!!
So it's functional in great ways. But can you depend on this kayak to last?
Is The Juice Worth The Squeeze?
There's a reason this is the most recommended low-budget inflatable kayak on the market. It tends to sell out (especially now. I'll leave some link options to help you in your search). The K2 Explorer is durable enough for casual functions and can handle some rougher waters as well.
If you're looking to handle class 4 or 5 rapids, I don't believe this kayak is for you though…
After going out for the day, inflating, deflating, and transporting the Explorer, I was left feeling pretty good about its reliability to stay around for a while. (Patch kits are provided. Because hey, accidents happen.) There are 3 main inflatable sections. So even if one punctures, you can still stay afloat to make it to safety.
I have found out for myself that it is a decent quality kayak for the price. If do your own search, you'll find more praise than complaints.
Swipe Right, then Left! (And Repeat)
Okay, so I'm doing double entendres with Tinder and rowing in reference to ratings and reviews… Look, I'm just seeing if your attention is afloat!
In our convenient quick judgment culture, sometimes we have to slow it down and investigate a little further past what we think we're looking for. I gave this Kayak a maybe because the price and ratings were consistent. I spent several hours looking into my options.
YouTube, online shopping, and a friend who works at REI, all yielded great reviews. So I basically have swept right in acceptance of the Intex K2 Explorer Kayak. It gave me a date of its arrival to come to my apartment. Our date on the river went well and we'll be going out again.
Float On
This modest priced kayak will serve your basic flotation needs. It's to the point, easy to inflate, and spacious enough for average sized people. I like the fact that it is comfortable, functional, and affordable. If you live in an apartment where you can't store a traditional kayak, check the Explorer out. It floats on with water like cheese does a mouse ; )
>>GET THE INTEX K2 EXPLORER INFLATABLE KAYAK HERE>>
>>GET THE INTEX K2 EXPLORER INFLATABLE KAYAK HERE<<
---
Thanks for floating by! I have some affiliate links included with my review. The kayak was bought with my own money after several hours looking into and making an informed decision. I may earn a small commission through the links. This doesn't change the price in any way.
– Mark G
Please follow and like us: